High Performance UV Curable Liquid Adhesive Solutions for Bonding Flexible Printed Circuits (FPC)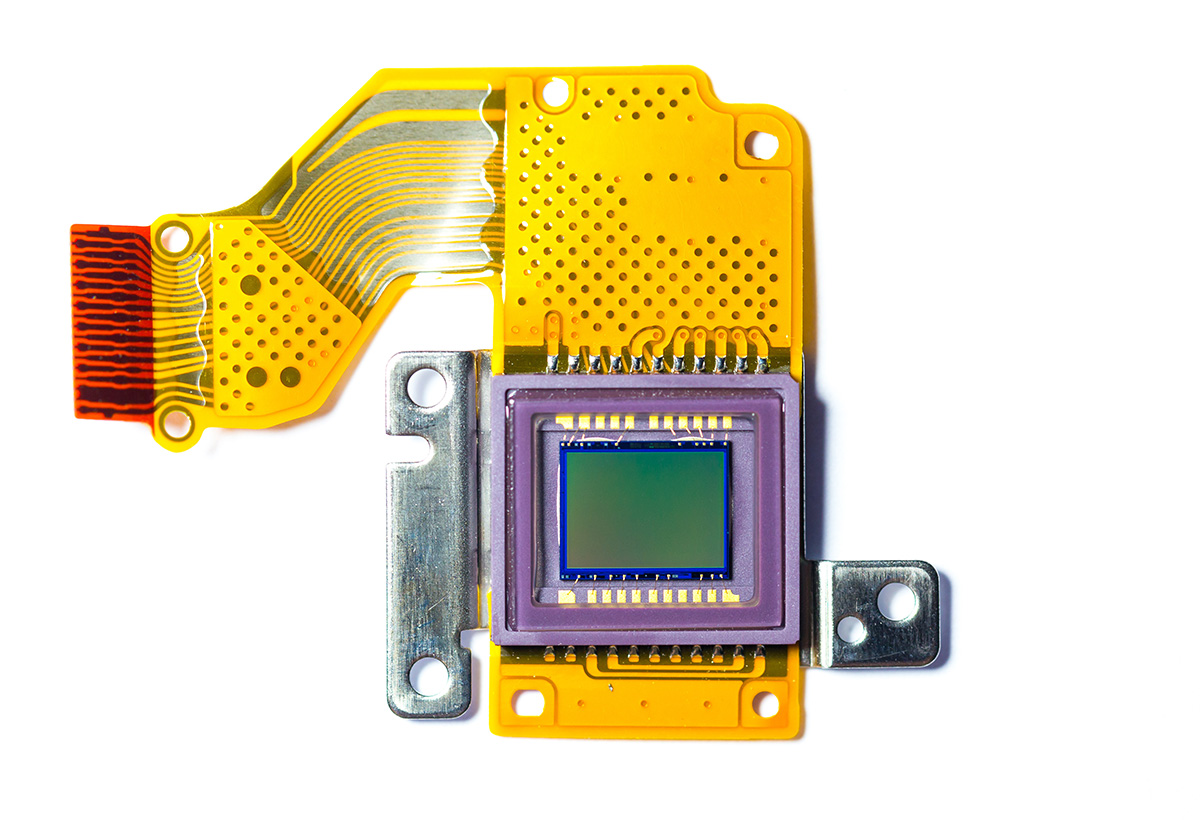 Flexible Printed Circuits (FPC) are a common technology used in the assembly of portable and mobile electronic devices. The use of FPC's have become widespread due to the ability to incorporate functional, reliable, electronic performance in a flexible substrate format.
FPC's are light and thin with excellent bending properties which can both save space and reduce weight of the final assembled mobile device. Additionally, when FPC's are used in high volume assembly processes there are also cost savings compared with alternative substrate/ interconnect technologies.
Typically Polyamide (PI) substrates are by far the most common FPC substrate used in the assembly of electronic devices, however PI as a substrate technology can provide some challenges in the assembly process, particularly in respect of the adhesive selected used to bond the FPC in place.
Polyamide itself is a challenging substrate to adhere to however when bonding a substrate flexible in nature there are inherent forces and stresses that the bonding adhesive needs to be able to accommodate. Typically the dominant force for FPC applications that the adhesive has to deal with our peel forces and in terms of device reliability it is a requirement of the adhesive to retain sufficient peel strength over time at ambient, environmental conditions.
'Peel strength' is a combination of three adhesive performance factors, i) Peel Adhesion, ii) Shear resistance and iii) Tensile Strength. When formulating an adhesive to have excellent Peel Strength these different factors need to balanced to deliver the best adhesive product performance.
In addition to the key performance variable, 'Peel Strength', other key adhesive performance targets need to be met to provide a solution which can be utilized in the high volume manufacturing processes where FPC substrate technology is used. These performance metrics can vary from application to application but include, processability (dispensing/ jetting), cure conditions, surface tackiness post cure, environmental stability post conditioning. In addition the adhesives must also meet with industry regulatory compliance standards such as REACH/ ROHS.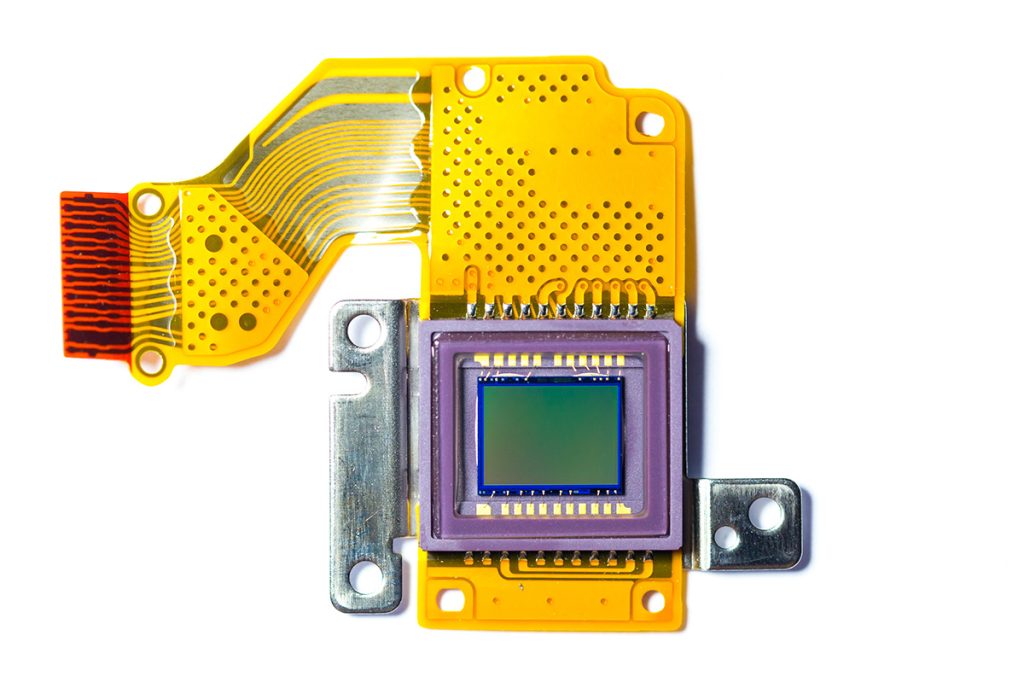 Adhesives for Bonding Flexible Printed Circuits:
There are numerous adhesive suppliers and adhesive technologies for bonding flexible substrates in applications such as FPC. In FPC's assembly for consumer electronic devices both adhesive tapes and liquid adhesive solutions are common. Typically the tape/ film adhesive solutions used to bond FPC's in temperature sensitive applications like LCD Displays are thermoplastic in nature, while liquid adhesive solutions are typically UV cured thermosets. Both liquid thermosetting adhesive and Tape thermoplastic approaches have disadvantages and advantages that need to be considered during the adhesion selection process.
UV Curable Adhesives for FPC Bonding:
UV curable adhesives for FPC bonding in consumer electronic devices have numerous benefits versus competing technologies. They are typically supplied as a pre-mixed solution, pre-packaged into syringes or jars that can be easily applied using relatively low cost production equipment to maximize through-put and efficiency.
Increasingly customers are becoming more concerned about how sustainably they manufacture their devices and the 'release liner mountains' that are often seen when using tape or film solutions are becoming more of a concern at assembly houses, which is not a problem with using a liquid adhesive solution.
KRYLEX Adhesives Developments for High Performance FPC Bonding – KU517'x' Series:
KRYLEX Development chemists have developed a range of new, UV curable adhesives designed to deliver next level performance in the bonding of FPC's – KU517x Series.
The KU517x liquid adhesives are developed to have tightly defined rheological properties to make dispensing and wet out a consistent, repeatable process, from adhesive batch to adhesive batch and also have rapid cure kinetics meaning the product can be rapidly reacted in <5 seconds, when the appropriate intensity of UV/ Visible light is applied. The fully reacted (thermoset) adhesive enables excellent adhesion to the target substrates e.g. Polyamide and Glass, while maintaining excellent peel strength characteristics to tolerate the associated bending stresses when bonding a flexible substrate. In addition post environmental conditioning the products retain excellent mechanical properties: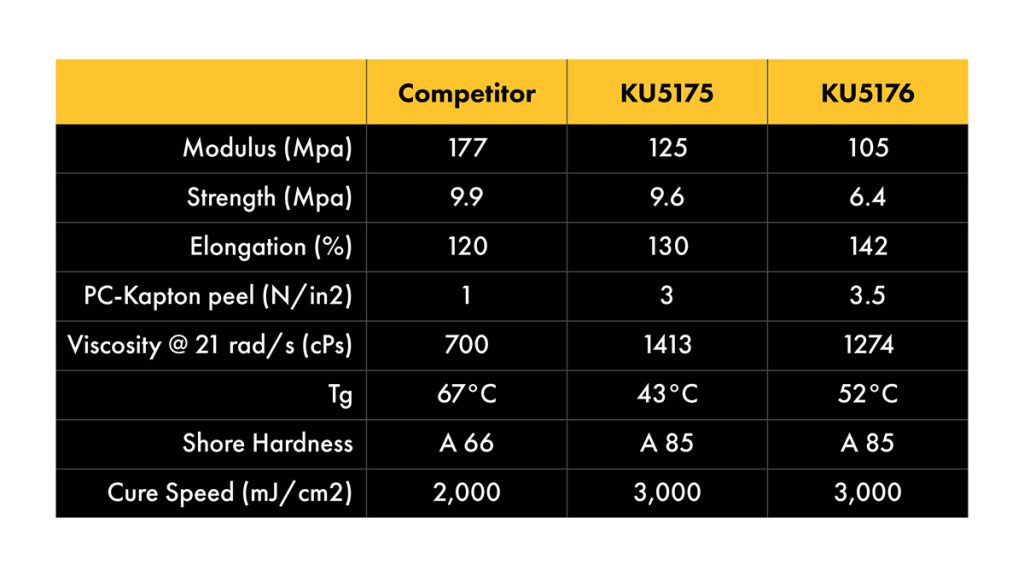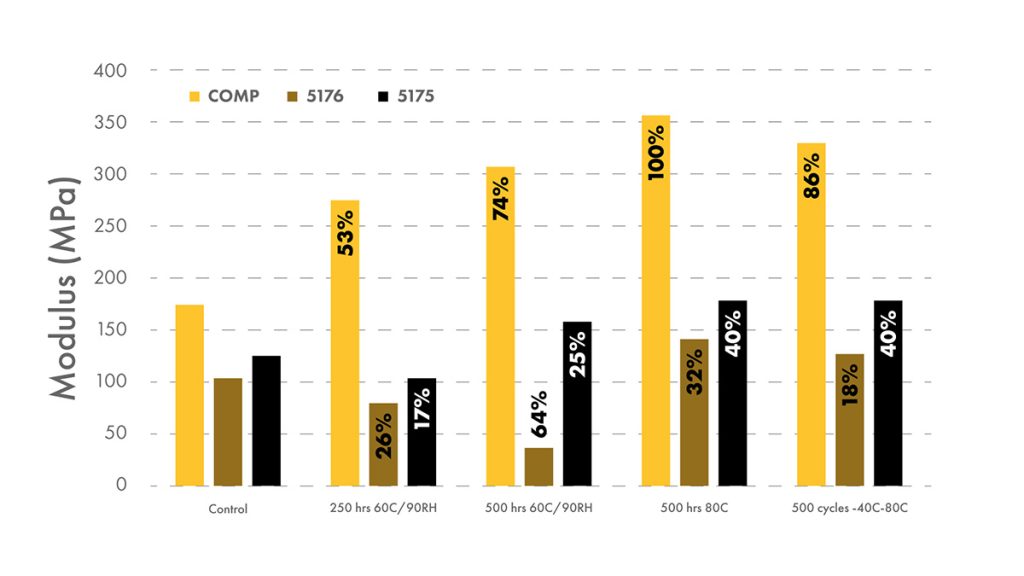 Figure 1. The effect of accelerated environmental aging on adhesive Modulus for KU5176 & KU5175 versus competitor sample – Increasing Modulus versus accelerated aging demonstrates increasing rigidity and increased brittleness (lower peel strength)
Figure 2. The effect of accelerated environmental aging on adhesive Tensile Strength for KU5176 & KU5175 versus competitor sample – Increasing Tensile Strength versus accelerated aging demonstrates increasing rigidity and increased brittleness (lower peel strength)
In addition to excellent physical and mechanical properties KU517'x' series product have been formulated to meet current and near future REACH regulatory standards for hazardous constituents.
Typical Applications for KU517'x' series include:
OLED/ LCD Display – Chip on Glass Bonding (COG)/ FPC Reinforcement.
Compact Camera Module – FPC Reinforcement.
Structural Bonding for Narrow gaps/ bond areas.
Applications Peel forces are dominant.
KU517'X' Series Products provide customers a balanced product performance ideal for reliably bonding flexible substrates widely used in todays consumer electronic devices.
For more information or to arrange product sampling contact Paul Gleeson at pgleeson@chemence.com.